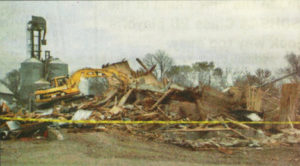 A century old Dell Rapids landmark came tumbling down last weekend.  The old Dell Rapids Coop Grain Elevator and roller mill, which was located next to the railroad tracks on LaDelle Avenue, was systematically dismantled and hauled away.
Knodel Contractors, a Freeman firm that specializes in demolition, handled the project.
"It didn't take them long, " Coop Grain Manager Mark Lee said.  "They started tearing the building down on Friday and had the area cleaned up by the end of the weekend.  The old materials were hauled by semi-trucks to the local landfill.  They did a good job."
A skilled operator of Caterpillar claw tractor did most of the demolition work.  The Knodel crew kept chipping away at the exterior of the elevator and finally the entire main structure toppled late Friday afternoon.  Providing the most resistance were the huge timber beams, 16" x16" in width, that anchored the base of the old building.
"We had used the elevator every day," Manger Lee said.  "We finally shut down about a week ago.  The building stored about 25,000 bushels of grain, plus bulk cattle and hog feed ingredients.  We took out the grinder and mixer, which was quite a job."
The exact construction date of the old elevator still remains a mystery.  Dells old timers have figured the building was about 100 years old, built near the turn of the 20th century.
"Art Rave can remember coming to the elevator as a five-year-old in 1915," Lee said.  "Local historians said the railroad came into Dell Rapids in 1883.  At one time, there were three elevators along this track.  We would welcome additional historical information."
Some of the grain marketing articles, including the old scale, have been removed and preserved in the Dell Rapids Museum on Main Street.
The newly constructed steel roller feed mill, built just north of the old structure, is fully operational, according to Lee.