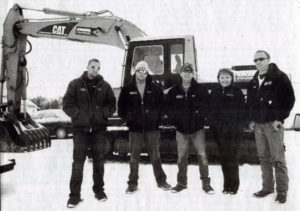 Kelly Knodel had no intention of starting a business when he purchased a Caterpillar track loader at a surplus auction in the late 1990s.
But shortly after his purchase, he was asked to use that loader to clean up a farm site, "which led to taking down a house in Freeman," he says.  "I guess it snowballed from there."
Did it ever. Today, nearly 10 years after choosing to start an excavation business, Knodel Contractors has built a resume that includes major jobs in South Dakota, Nebraska and Freeman, his hometown, and particularly in recent years has been seen working in various capacities around the region.
"Everybody finds their niche, and I guess I found mine," says Knodel, who says had he not purchased that loader at the surplus auction, he may have never started his own business.  "It absolutely happened by accident."
Knodel Contractors specializes in excavation, demolition and commercial site prep work and has worked to remove old buildings, build roads and prepare grounds for various developments.  Knodel also operates a gravel mine northwest of Freeman.
He is currently working on the TransCanada Keystone Pipeline project in both Hutchinson County and near Roswell and has also been working for the city of Freeman on the Dewald Street extension project.  And this is his slow time!
"It's sun up to sun down," he says.  "The words 'too busy' are not in my vocabulary."
Since establishing his business Knodel has seen significant jobs both in the community and beyond thanks in part to Governor Bill Janklow's program to "Clean Up South Dakota."
Recent jobs in Freeman have included site preparation for Dollar General, the demolition and removal of the former Park Lane Feeds elevator and St. Paul Lutheran School building, and (most recently) site preparation for the city's maintenance building and Norm's Thrifty White Pharmacy.
But his biggest ticket jobs have been outside of Freeman: In 2002 Knodel cleared an entire farmyard for the development near Harrisburg, and in 2004 he was hired to prepare a site for an automotive dealership on North Cliff Ave. in Sioux Falls that included removing 12 feet of the street itself.  He has also worked side by side with emergency responders cleaning up disaster areas following tornados, floods, chemical and oil spills.
"In those cases we mobilize as quickly as we can," he says.  "That's one of the reasons we have the equipment that we do."
Knodel uses more than 60 pieces of heavy equipment that range from dump trucks to excavators to scrapers to stacking conveyers, packers and side dumps.  Managing all that equipment plus coordinating his employees with the jobs can be a challenge.
"That balance consumes most of my time," says Knodel, who is based on the rural farm he grew up on south of Freeman, where he recently built a new 1,000 square-foot office.  He also just hired a new office manager to help coordinate jobs and manage business that includes stringent rules and regulations and ongoing paperwork.
"I really enjoy a challenge," says Knodel, "especially if it's something other contractors have walked away from."
While establishing his business was a challenge in terms of both name recognition and building a fleet of equipment, he feels he has done so by being reliable, prompt and cost-effective.
"We deliver a quality product on time and for the price we've quoted," he says.  "That's why the business has grown."
Knodel will keep busy this coming season thanks to the reputation he has earned, and looks forward to continuing to build the client base in his home community.
"It's been nice working in Freeman," he says. "It's always nice to work close to home with people you know and trust."
And while Knodel has rarely been short on work, "I always welcome the opportunity to work with new people on new jobs."
QUICK FACTS
Business Established: 1999
Owner: Kelly Knodel
Location: 43725 284th St.
Phone: 605-925-4594