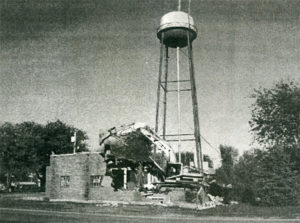 The brick-faced structure on city property located on the east side of Cedar Street and west of the Freeman Water Tower—most recently used as a maintenance shed—is gone.
The building was demolished Friday afternoon, Oct. 8 in less that half an hour by Kelly Knodel of Knodel Contractors.  Knodel submitted a bid to remove the building that was once an essential part of the city's service but has systematically been replaced by new facilities over the years.
The building—known for many years as the "pump house" – housed the pumping system that distributed water from Freeman's wells to homes and businesses through the municipal underground water mains.  Improvements to the system came in the 1950s; the water tower was erected just east of the building in 1958.
The building was also used to house city vehicles and equipment and when the water plant was moved into the new quarters the building use shifted entirely to storage of vehicles and equipment.
There is no record of when the building was built, but former mayor and longtime city council member Chet Sorensen says "it's gotta go back to when the water plant went in." Sorensen recalls the rich history of the building, including spending time with city employees monitoring the pumping system in the years before the new water plant was built.   He noted there was a small office at the "pump house" and that just one of the bays used to store vehicles was heated.
Construction of a new storage and maintenance building about a block north and across the street in 2008 essentially marked the end of the useful life of the structure.  The city decided earlier this year to demolish the building.  The demolition revealed the structure had a wooden frame; the brick was a façade.
Mayor Lonnie Tjaden says the city will now consider the best use of the city property.  The city has property across the street that is used to store materials like gravel, sand and salt.  Because that property is low and susceptible to flooding, there has been discussion about moving that to the site now vacated, but there are no immediate plans for the property.