When the news of TransCanada's proposed 2,148-mile Keystone Pipeline was announced in February 2005, Kelly Knodel of Knodel Contractors knew he wanted to be part of this project. And as luck would have it, the new Keystone Pipeline, which will carry crude oil from Canada to the Midwest, runs by a few miles from Knodel's property in Freeman, South Dakota.
Luck, however, has nothing to do with how he successfully won the bid to perform hauling for this project. Knodel knows exactly what he needs to complete a job on time and within budget—from the right equipment to the right people operating that equipment.
Knodel started his contracting business 10 years ago with a track loader he bought at an auction. "Back then, it was just me working local projects," he says.
It didn't take long for Knodel to expand his business, number of employees and inventory of equipment. He has added excavators, loaders, bulldozers, conveyors, lowboys, graders, rollers, compactors and side dump trailers to his fleet. Now, Knodel says, "We've done everything from building demolition, new construction site prep, to road work, underground tank removal and cleaning up after tornadoes. There's nothing we can't do."
That attitude came in handy on the Keystone Pipeline project, a massive undertaking that requires contractors to adhere to a strict schedule.
Bidding for the Keystone Pipeline Project
TransCanada awarded the major U.S. pipeline construction contracts to seven general contractors for the spreads, pipe offloading and stockpiling, and pump stations. The general contractors then hired subcontractors all along the project through North Dakota, South Dakota, Nebraska, Kansas, Oklahoma, Missouri and Illinois.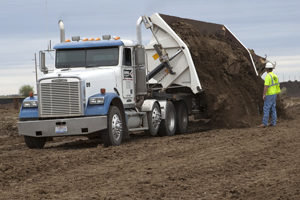 Knodel supervises dirt placement while his driver dumps on the run.
"I knew Knodel Contractors was a perfect match for working on the Keystone Pipeline. They need to build approximately 1,379 miles of pipeline just here in the U.S. That's a lot of site preparation and materials to be hauled. I had no doubt we could handle this site prep work faster, cleaner and more efficiently than anyone else," Knodel says.
He convinced the right people went to work on a 100-mile stretch of the pipeline, beginning at the Nebraska-South Dakota border and moving north along the pipeline route. His crew hauled in dirt during the first phase with side dump trains, then followed up with motor graders and rollers to spread and pack the gravel base.
Gaining a Competitive Edge
Knodel had eight employees dedicated to this job alone and ran three Side Dump Industries dump trains. His trains consist of two full-size trailers together—and it is the haul capacity of Knodel's train sets that separates him from the competition.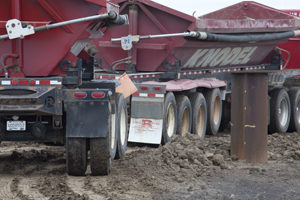 A side dump train gets ready to dump near the pump station pile.
"What I can haul in one load would take a contractor running end dumps up to four trucks alone," he says. "Plus, my drivers can place product, whether it's dirt, gravel or rock, exactly where it needs to be." Knodel adds, "It can all be done on the run, too. We don't have to stop, scrape out the tub, and then move the material where it's supposed to be. In the time it takes other contractors to do that, my guys are already down the road getting another load."
Knodel estimates the first phase of hauling in 15,000 tons of dirt took 10 days. "I was running three of my Side Dump Industries trains 12 hours a day. We were rained out a few days, but due to the 50-degree dump angle on my side dumps, we never had any problems with wet, heavy dirt sticking to the tub," he explains.
The second phase of the pipeline work included placing 18,000 tons of gravel base material that Knodel mined and blended at its own pit in Freeman, South Dakota. At this pit, Knodel blends gravel and rock using a screening plant and a hundred-foot radial stacker.
When it comes to the type of site prep work called for on the Keystone Pipeline, Knodel feels side dumps are the right kind of machine to get the job done. "SDI's side dumps have a 50-degree dump angle, which means the product I'm dumping comes out faster and cleaner. That's especially important when I'm hauling dirt. Nothing sticks to the tub. Plus, I can place the product exactly where I want it. Another great thing about my side dumps is that the dump distance is so far from my wheels I never worry about running over the product or damaging my tires."
Knodel also believes the low center of gravity gives him much more stability when dumping, especially on the run. "We are very comfortable dumping our fully-loaded trains on the run," he says. "I've seen other guys tip not only the trailer, but their tractor over, too, causing severe damage to the equipment and the operator. My guys simply don't worry about that."
Knodel adds that his crews don't worry about damaging the Domex steel trailer tubs, either. He says with a laugh, "I've thrown all kinds of stuff in those tubs—broken concrete, huge rocks, building debris, even cars from tornado cleanup—nothing dents or cracks my trailers." Knodel says, "Each piece has to work every day, all day. I simply can't conduct business successfully without good equipment."
Then he sums it all up: "It's all about efficiency; being able to haul more with less equipment and less fuel … completing a job faster with fewer employees … it all means I can move onto the next project sooner, make more money and grow my business."