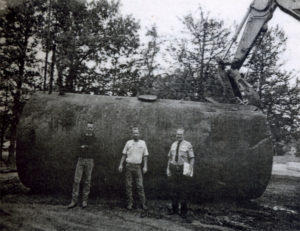 Walworth County Sheriff and Spruce Up South Dakota Chairman Duane Mohr noted Tuesday, September 18, the state Spruce Up South Dakota program initiated in Walworth County in the late summer 2000, is nearing completion in Walworth County with the removal of preregistered underground petroleum storage tanks last week.
Since its inception, the Spruce Up South Dakota Program has allowed citizens to remove unwanted and unsightly debris at minimal or no cost to them.  In this volunteer program, Gov. Bill Janklow and his administration with help from the DOT, Dept. of Corrections and the National Guard, hoped to eliminate many "eyesores" that existed on the South Dakota landscape.
Other segments in the Spruce Up South Dakota Program included the removal of white goods (appliances & water heaters, etc.), abandoned vehicles and tires and batteries, and dilapidated buildings.
The "Tank Yank" program is completely free to the landowner.  This was an opportunity that the landowner who knew of underground tanks on his property found hard to resist.
When the Tank Yank program was first approved by the 2000 Legislature, the state was required to place a lien on the property for 5 years.  If it was sold in the 5-year period, the landowner had to reimburse the state for the cost of the tank removal.  However, Gov. Janklow introduced a bill during the 2001 legislative session to eliminate the lien.
Governor Bill Janklow wants these tanks removed because as tanks corrode, any petroleum that may still be in the tank will leak into our state's ground water.  One gallon of gasoline has the potential to render one million gallons of water undrinkable.  Leaks from abandoned tanks can also contaminate soil around the tanks and cause unhealthy gasoline vapors to seep into basements of private homes and businesses.  Since these tanks are buried under several feet of soil, these problems can go unnoticed for years.  The longer these old tanks remain in the ground the more corroded they become.  As the tanks become more and more corroded there is an increased risk of the tank collapsing, and someone or something falling into the hole or the tank.
On Monday, September 18, the "Tank Yank" program was initiated in earnest in much of Walworth County with the joint efforts of Environmental Technician Greg Malsam of American Engineering Testing, Inc., Pierre, Kelly Knodel, contractor and Dennis Dick, and Josh Schmidt of Knodel Farms, Freeman, and Clarence and George Wipf of Mobridge Manufacturing.
Knodel was the contractor that received the assignment to remove these underground tanks in much of Walworth County, remove any contaminated soil, and cover the excavation site.  They had recently completed the counties of Aurora, Bon Homme, Clay, Douglas, and were later traveling to Minnehaha and Yankton Counties.  Knodel noted that contractor Randy Fudge, Mobridge, has been contracted to remove tanks in the City of Mobridge as well as several sites in the West River area.
Malsam noted that American Engineering Testing, Inc.'s assignment is to test sample soil excavated from the sites for any contaminated soils after the tanks are pulled for any Petroleum Contaminated Soil or PCS.
Any petroleum products found in any of the tanks was removed by Mobridge Manufacturing.   Their personnel will blend fuel oil, heating oil, and gasoline and produce a recycled product which can be utilized to be burned in a unit that is designed to burn waste oil which will heat the company's shop.
Any contaminated soil (or liquid wastes) found in the Walworth County project will be removed to a specific site at Walworth County Landfill.
It was noted in a County Commissioner meeting in June 19, 2001, although, historically, Walworth County has never accepted liquid waste into the landfill, it is a regional landfill and other land farms in South Dakota historically do.
It was noted that the soils are tested and totally contained to prevent any potential migration until tests reveal that any contamination has dissipated before it can be recycled as daily cover.  It was also noted that DENR is totally supportive of such a concept.
The tanks removed by Knodel will be relocated to Redfield Salvage, a certified site.
Knodel noted that Monday, they removed tanks from property owned by Selby Hoeny, Java owned by the Bermel family, and private property owned by Heath Bermel.  The Bermel family own a lot on Main Street in Java that was a site of a former service station in the 1940's (the old Spiry Garage).  Heath Bermel owns a lot on St. Paul St., Java. Knodel noted that by all the appearances the site on St. Paul was the site of an underground tank and was preregistered as such.  However, it was discovered later, instead, to have been a cistern.  Knodel noted that this program normally would not provide for removing cisterns.  However, once the hole was excavated it would prove to be a liability if the excavation was not closed in.
Tuesday morning found the team at the Walworth County Courthouse where a 10,000 gallon monolith tank (approximately 9'x 21') that was located behind the Walworth Count Jail was removed.  According to the Walworth County Courthouse custodian Sheryl Stroh it is believed that the tank has been in place since the early 1960's, when the courthouse heating system was converted from a coal generated (hand-stoked) boiler to fuel oil.  In the fall of 1998, Commissioners voted to convert the system to natural gas as there appeared to have been some potential concerns as to efficiency of that system and also some concern about potential contamination.
Other tanks that were yanked in the area included two 10,000 gallon units at the Selby Area School, one 10,000 gallon unit at the Berens Hotel and a smaller unit at the City of Selby shop building.
Knodel explained that in the 1930's, all existing tank sites were incorporated into "fire maps" for the purpose of assisting fire departments and insurance companies in locating them.
Knodel and Malsam explained that in many cases as many as 50% of tanks removed have some petroleum products that have leeched into the soil.