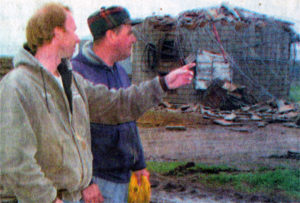 CONTRACTOR KELLY KNODEL, above, points out some storm cleanup work Monday afternoon to farm owner Kevin Walz, of rural Menno.  In the background are the remains of a 60-foot silo that was taken down by 60-90 mph winds early Sunday.  Powerful winds destroyed or damaged most of the farm's buildings.
MENNO –  A frame farmhouse – a dab of calm in a sea of tangled metal chaos – was one of few structures on a farm near here to survive the Sunday morning winds.
"If that roof had been shingles, they'd all be gone," said owner Kevin Walz, referring to the three-year-old metal roof on the house.
The Walz farm, located about six miles northeast of Menno, was among the area property hit hardest by the 60-90 mph thunderstorm winds that drove though the area early Sunday morning.
Unofficial estimates place damages at the farm to around $200,000.  "I was asleep," said Walz, 46, who said the storm struck his farm around 6 a.m.  "I heard the wind, looked out the window and the silo was gone.  The whole thing was over so fast," he said.
The next call he made was to his insurance agent.
The silo, a 60-foot tall structure made of metal-banded concrete staves, collapsed to the 10-foot mark, the only part containing silage.
But that was only the beginning.
The wind, veering east, tore two large grain bins from their moorings, rolling and scattering their remains, and some metal from two destroyed pole barns across an eastern field.
Three other grain bins also were damaged, and Walz said "a stock trailer was tumbled a good quarter of a mile" and was also a total loss, as was an almost-new grain dryer and auger.  Sheet metal and siding was widely scattered.
Windows were blown out on two of the farm's tractors.  Walz was thankful the machines were parked outside the collapsed pole barn that usually served as a garage.
"The only tractor that survived was my (John Deere) 4010," he said.  "The old girl never got scratched."
Also damaged was the farm's oldest building, a 100-year-old structure with a lumber grain bin.
"This was just too much for it," Walz said.
Kelly Knodel, a Freeman-based contractor who specialized in disaster reclamation, said the damaged buildings will be removed and the debris buried on site.  Crews were busy gathering and sorting debris Monday.
Knodel said his crews also were busy cleaning up another farm about three miles east of the Walz farm.  He said much of the material was so twisted it could not be salvaged.
"When you try to re-use them, the pieces don't fit and you get leaks," he said.
Knodel said changing weather patterns seem to be moving more violent weather through the area.  He said his company repaired the aftermath of wind damage in the Canistota area about three years ago.  Winds severely damaged a grandstand in the town Sunday.
Menno Mayor Larry Tolzin said his own crews did not have to use the inmate labor from Mike Durfee State Prison offered by the state Department of Emergency Management.  He said neighborhood volunteer cleanup crews worked hard Sunday to clean up debris.
"It looks pretty good now," said Tolzin, who said city crews were busy picking up branches residents had placed along city streets.
At Menno's local Farmers Union insurance office, owners Gary and Marsha Schelske were busy.  Mrs. Schelske said adjusters were in the field and claims were still being filed on damage to vehicle, homes and outbuildings.  The Schelskes also handled the Walz farm's claims.
Dan Wall, manager of transmission and engineering services for the East River Electric Power Cooperative, said crews began reconstructing 19 transmission poles in addition to a string of about 8-10 poles being replaced by NorthWestern Energy along 431st Avenue south of town.
T.W. Schoening, an East River spokesman, said about 4,000 electric customers were affected by the winds during the storm's initial four minutes.  Outages were scattered afterwards, he said, though no precise figures were available on who was affected throughout the day.